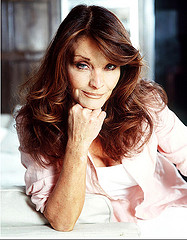 I thought it might be interesting if I shared news about some of my showbusiness friends.
Many of the people I've met during my career have become good friends, and we stay in touch regularly.
I met Kate O'Mara during filming for an episode of The Champions called To Trap A Rat. We got on famously from the start, and have maintained our friendship to this day. In fact, Kate was kind and generous enough to make the long trip from her home to attend the ABC Animal Sanctuary Open Days last summer - and she's hoping to do the same this year. She regularly stays with me when she's touring, and it's always a joy to have her as a guest.
Kate is an extrmely gifted stage actress, equally at home and adept at both drama and comedy. She recently toured the UK starring in Oscar Wilde's Lord Arthur Savile's Crime. Appearing with her was Lee Mead, winner of Any Dream Will Do – the TV programme that featured Andrew Lloyd Webber's search for a young actor to appear in Joseph and the Amazing Technicolor Dreamcoat.
Kate is an extremely entertaining writer, as well. She's published autobiography, fiction and a life-style book - all of them hugely entertaining. Anyone who's remotely interested in what is was like being an actress in the 1960s should read Vamp Until Ready. And I just love the title!