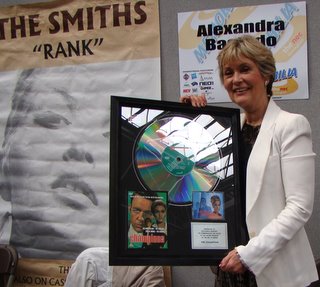 I had a terrific time at the Memorabilia Show at the end of March.
I shook so many hands, signed so many autographs and met so many people, it's all a bit of a whirl really! I hadn't been to a show for a few years and I'd forgotten how enthusiastic and welcoming people were.
In fact, I ran out of classic Champions pictures to sign - and I thought I'd taken more than enough.
I was very touched when Davey Southwood – a fan for many years – presented me with an award. I thought you might like to see a picture of me proudly displaying it – actors love awards!
It was also good to catch up with some friends – Fenella Fielding who I appeared with in "The Provok'd Wife", Victor Spinetti and Philip Madoc who I worked with in "The Champions".
Thank you to everyone who came – it was a genuine pleasure to meet you all.
Thank you also to the organisers of the show, who put so much effort into it and made it such a smooth and pleasureable experience for the guests.