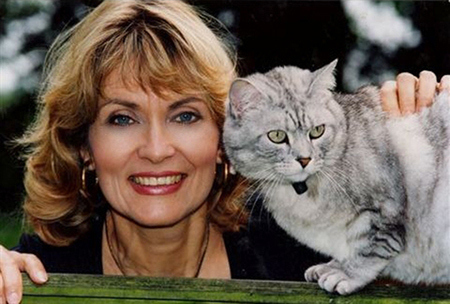 On 28 July 2009, The Daily Mail published an article about my healh and my work with animals. The article was written by my long term friend, the distinguished journalist, Roderick Gilchrist.
It was Roderick who first persuaded me to be the president of my local Chichester RSPCA branch, Mount Noddy, which I was, for 15 years. At the end of that time, I decided that my personal contribution would be better spent by concentrating on the ABC Animal Sanctuary which I had started 27 years ago.
We had previously lived in The Witterings, near Chichester but because of the muddy conditions in the plains had decided to move to a smaller house and garden in the hills above Pulborough with 10 acres next door for the animals. However in that 27 years the sanctuary has grown enormously and the 10 acres are now filled to capacity with over 150 animals and birds.
As an older actress parts are now scarce and television repeat fees are negligible and with the increase in volume of unwanted animals I could no longer fund it myself. Since January 2009, the sanctuary has operated as a 'not for profit' organisation (Registration Number 6797855), with over 40 volunteers, supervisors and trustees.
Originally I had intended only to take in unwanted older animals, but such has been the volume of abandoned younger ones that it has proved impossible and we now have animals of all ages including the very young. In order to give the unhomeable ones a secure future it has been important to make people aware of our new animal organisation and this at a time when many are having to close through lack of funds.
We had our first open days in early June and were thrilled with the response of the people who came and supported us.
We do our best with nutritional supplements, herbs and homeopathy but vets bills are unavoidable. Today, Phoenix a lovely black cat whose owner died, has actually had to have one eye removed by our excellent vet Matt at Arun Vets. We had been treating his eye for some time but ultimately nothing could save it. In spite of the discount, an expensive bill! Also the bills from Gatleys - the animal feed company - keep coming, although they kindly give us the trade price.
So thank you, thank you, all of you who are so generously helping us to fund these poor creatures, who with all the TLC from the volunteers are able to live out their lives happily with us. We like to think it is a true sanctuary and soon after arriving kicking, biting and sometimes screaming, the animals are transformed and peace and tranquillity reign once more.
Anyway, back to the article. Roderick Gilchrist who is a real animal lover himself said that if I would do an interview about my health and the animals in the Daily Mail, hopefully the sanctuary would become better known nationally.
I had first started having problems after taking Clomid and Pergonal, the fertility drugs, at the age of 37 after I had married my husband Patrick Garland.
After four unsuccessful attempts, the legacy these drugs left was lumps – a year later large fibroids (which I heard rumours about at the clinic) appeared in my womb and little lumps in my breasts.
The gynaecologist said if I could I should live with the fibroids, but I went off to see Jerry Gilmore the breast cancer specialist in some alarm. After examining me he said that the good news was I had the breasts of a 16 year old but that they were 'busy' breasts and still forming lumps - some of which had a 'cellular irregularity'. The latter had to come out.
However, 12 years ago, after hearing a close girlfriend had had a mastectomy, I started to examine myself and found another lump in the right breast ….. "panic" and this time rightly so, as it was cancer. Immediately I had surgery and was mentally prepared for a mastectomy but Jerry Gilmore did a lumpectomy. "We have the clearance area we wanted and there is no sign of cancer in the lymph nodes, but as a precaution you should have radiotherapy and we can also suggest chemotherapy" he said.
Now chemotherapy treatment, I know, is improving all the time, but with a 100% clearance verdict and radiotherapy as a back up I decided the odds were good enough to do without chemo but went ahead with the rest.
Radiotherapy, it has to be said, can be exhausting and I was lucky enough to be seeing the remarkable Dr Loveday at the time who filled me so full of vitamins and good advice that I hardly noticed it (her successor is now Patrick Monkham on Harley Street).
However, I did notice at the time that ladies who had had mastectomies and implants were in far more pain and rather sore. If anything, the removal of some of the lymph nodes under the arm was more problematical as I was told not to lift anything or get bites, scratches or wounds. Almost an impossibility with all the animals I had to cater for. In the end, after looking at all the ponies, donkeys, dogs, cats, rabbits, pigs, chipmunks, ferrets and guinea pigs, I decided to find homes for ……. the guinea pigs. Why? Unfortunately I was treating them for mange and they had a tendency to bite and scratch. As for carrying heavy things, I just had to carry everything in one hand – the left one – and it meant twice as many trips! Success though, as I have never had a problem with my right arm, other than putting my back out at one point because I always put weight on the left side which caused an imbalance.
Fast forward five years - the time usually celebrated as being the 'all clear'- and with some girlfriends I toasted my health with a glass of champagne. However, I did have regular check ups as I had a girlfriend who had had breast cancer return after 12 years.
Unfortunately therefore, it came as no surprise 12 years later when Teddy the rescued Selkirk Rex cat stepped on me one night and I felt a little pain. I felt the spot and sure enough there was a lump the size of a pea in the right breast. I had always known of the possibility of a recurrence in the left one but was somewhat taken aback to find it was in the right one – the one that had had radiation. I had thought that would prevent a return.
I suppose having been there before, this time – this April – I was strangely less alarmed and unsurprised when with the same routine with a needle biopsy I was once again told I had cancer. The result was cancer with pre-cancerous cells surrounding it which hopefully meant it was contained. This time I saw a member of Jerry Gilmore's team, Tena Walters. I was in hospital being operated on in four days and this time we agreed I would have a mastectomy. No mucking about, I figured twice in 12 years was once too many times and wanted to do everything to prevent it happening again.
I suppose too, on both occasions when I thought of my poor brother Lindsay who had a tumour of the salivary glands and the facial cancer operation and reconstruction he had had to endure (8 hours) what I underwent seemed like a doddle. It isn't an arm, it isn't a leg it isn't my face. Reconstructive surgery? Having seen others undergo it 12 years ago, I am afraid I said "no thank you". In fact, it was the right decision as radiation – even 12 years ago – complicates surgery and has made the recovery period longer. It should have been 6 weeks. I was warned it could be 9 months but in fact it looks like being more like 4.
As for the inconvenience, more lymph nodes (clear once again) taken from under the arm have put that arm at risk from an oedema. I mustn't get stung, bitten or scratched so I have to be careful and once again I am walking twice the distance carrying things in my left arm! Besides that, I feel 100% fit and through it all the animals have helped me keep my sanity. Fortunately all the volunteers have been absolutely wonderful, the supervisors took over completely and wouldn't let me do a thing! Now I am back and insisting on interfering and helping once again.
However, even before this latest operation, I had begun to think very seriously about the future of the young animals who will outlive me and in January with advisers had made the ABC Animal Sanctuary a registered 'not for profit' organisation, with accounts visible for all to see at Company House.
In case anyone thinks that I have earned a fortune from TV, may I enlighten them that the last repeat for 'The Saint' was £5 and the Champions episodes on DVD brought in about £600 ie. £20 an episode. Better than nothing, but hardly going to keep 150 animals in animal feed.
With the trustees, supervisors, volunteer animal helpers and fundraisers (everyone unpaid and doing it out of love for the animals), our ambitions are to continue to operate at maximum capacity, taking in abandoned and poorly animals and rehoming those without problems. We need to put the sanctuary on a safe footing financially so none of the animals will ever be forced to be put down or sent to the abattoir prematurely.
So if you can help us with feed bills or vet bills, the new cattery, the new stable or the reinforcing of damaged fencing (constantly being tested by the animals!) and the concreting of muddy areas (thereby preventing foot rot), we will be most grateful.
If you are reading this for the first time, perhaps you would like to consider adopting an animal or becoming an ABC Friend, either of which will be welcomed by us.
If you are already an abcFriend, please carry on being our friend in the future.
Thank you so much and until next time, all the very best to you.
Alexandra Bastedo
Any donation you can make would be much appreciated. If you would like to make a donation via Paypal (either with a Paypal account or a credit or debit card) then please click here
If you would prefer to contribute by cheque then our details are :-
PO BOX 2195
West Chiltington
Pulborough
West Sussex
RH20 2XB
United Kingdom
To join abcFriends or adopt an animal on-line then please visit the animal sanctuary website